BACK
---
Consolidated expertise and cutting-edge machines move… the buildings!
And it is just like that, as reported by Infobuild, prestigious online magazine of the construction world.
SYStab, a company highly specialized in the consolidation of land and foundations, customer of Magma Macchine for many years, was the architect of consolidation in an eight-storey building in Naples, with an area of about 900 square meters, based on isolated plinths not connected to each other, resting on beaten piles, about 14 meters deep. The condominium in question is located in the Colli Aminei area, at the corner of Via Nicolardi.



The Customers as well as the Designers after several geognostic campaigns and precision monitoring of the building, opted for a quick and unobtrusive intervention to be carried out on the whole footprint of the building. It was therefore decided to carry out a consolidation with injection of slow expansion polyurethane resins with SYStab System, applied with high pressure machines, model MS of Magma Macchine.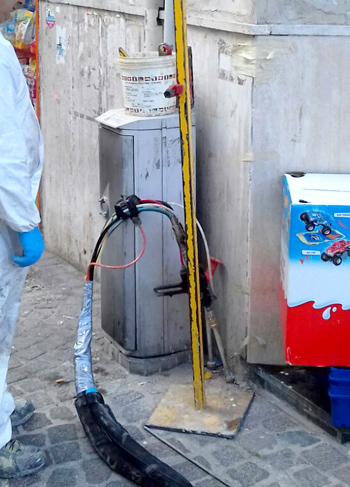 Unlike other similar types of consolidation, the SYStab System envisages the use of different types of resin, chosen both on the basis of the characteristics of the soil to be treated and during the various phases of the injection.
The system allows obtaining in the soil-foundation node:
Cavity filling with reduction of the empty space;
Soil compaction and increase in geomechanical characteristics;
Separation from water and waterproofing.
The intervention was carried out in 10 days, without the need for excavations by making holes with a diameter of 25 mm at the base of the masonry to be consolidated. The extremely low invasiveness allowed to operate from the ground floor, even inside shops and other commercial activities, without interrupting the work activity.
Contact us to discover Magma Machine's solution taken to consolidate buildings
TEL. : +39 0321 986637
FAX : +39 0321 987322
E-MAIL : commerciale@magmamacchine.it